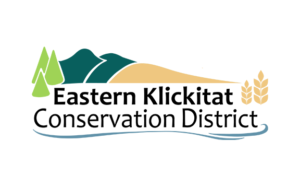 Eastern Klickitat Conservation District (EKCD) is excited to introduce our new website and logo.
Our website has been redesigned to help us share timely and easily accessible information with our community. In addition to the new look — which includes more photos of our local landscapes and natural resources — some new features include:
Updated information about our programs and services.
A new online shop where you can submit pre-orders for our Annual Plant Sale.
Easy access to informational resources, such as our Soil Health Webinars.
Our new logo reflects EKCD's role as a non-regulatory, community-based hub of natural resource expertise and support. Logo imagery includes some of the most iconic features of our local landscape, including the Simcoe Mountains, forestlands, wheat fields, and the Columbia River and its tributaries.
We hope our new logo and website help increase awareness about our services and our collaborative work to conserve our natural resources in partnership with members of our community.